MORE MAIN BEARINGS REQUIRED:
The 109E 1340cc. engine from Ford's Classic and Classic Capri models that powered the Lotus Super Seven in Cosworth Mark V form was to have a very short life in terms of manufacture because of crankshaft problems, as it had only three main bearings. Ford's replacement was a slightly larger 1498cc unit of similar design with five main bearings dubbed the 116E. It was this new unit that was to power two new models of Seven for six years from September 1962. However the old 109E unit was still fitted in Sevens for export to the U.S.A. for their own Sports Car Club of America (SCCA) race series.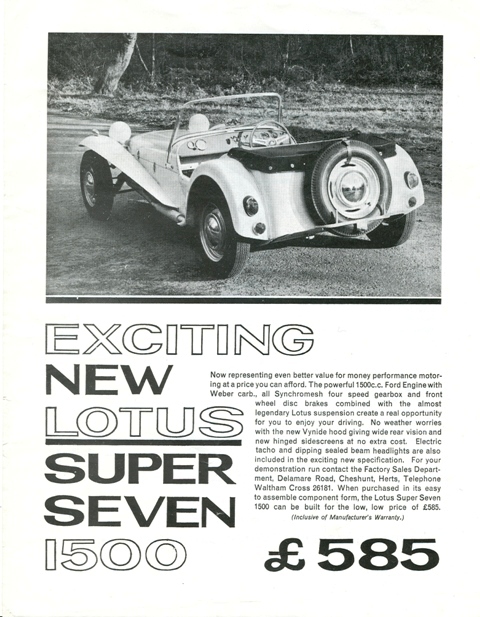 Brochure of September 1962

TWO NEW SUPER SEVEN MODELS:

The Lotus Super Seven 1500 had the new Ford engine in standard form but with single Weber 40DCOE2 twin choke side draught carburettor on special Lotus cast alloy inlet manifold developing 66bhp at 4,600rpm with compression of 8.3:1. The Lotus Super Seven 1500 Cosworth had the same engine but in Mk VIII Cosworth form with an A2 camshaft, freeflow exhaust and a pair of Weber 40DCOE2 twin choke side draught carburettors on special inlet manifolds developing 95bhp at 6,000rpm with a compression ratio of 9.5:1. In addition there was also a Mk. IX Cosworth version for racing similar to the above but developing 125bhp as well as a Mk. XIV Cosworth version for fast road developing 100bhp. The gearbox arrangement remained the same with the remote gearshift from the Triumph Herald being used until 1964 when Ford's own item from the GT Cortina could be sourced. As previously, close ratio gears were also an option. Still available were the Lotus Seven models powered by Ford's 105E 997cc engine and until the end of 1963 the "America" model with the BMC engine and gearbox from the Austin Healey "Sprite". DISC BRAKES: The other main specification improvement for the new Super Seven was that disc brakes were now fitted by Lotus for the first time. The Seven had used Standard Triumph front suspension components from earliest times. Girling Type 12 disc brakes were an option on the Triumph Herald from 1961 and a standard feature on all Spitfire and Vitesse models from 1962. The calipers were hung on brackets fitted to the same uprights used with drum brakes and the wheels were common to both cars, therefore the upgrade was very easily achieved.

HEADLAMPS:

Thus far Lotus Seven lights for driving had consisted of a Lucas SLR567 driving lamp and a similar Lucas SFT576 fog lamp. In 'dipped' operation the fog lamp on the off side pointed towards the kerb whilst the driving lamp remained unlit. In 'mainbeam' mode the fog lamp remained on whilst the driving lamp pointed ahead. By 1962 this had obviously become an unsatisfactory arrangement and to overcome this a pair of Lucas S700 headlamps with 7" sealed beam units were now fitted.

STEERING WHEEL:

Whilst a woodrim steering wheel had been supplied with the 109E car and as an option over the 16" grey plastic Wilmot Breedon item on the lesser models, a new metal studded 14" diameter woodrim design by "Springhall" now replaced this.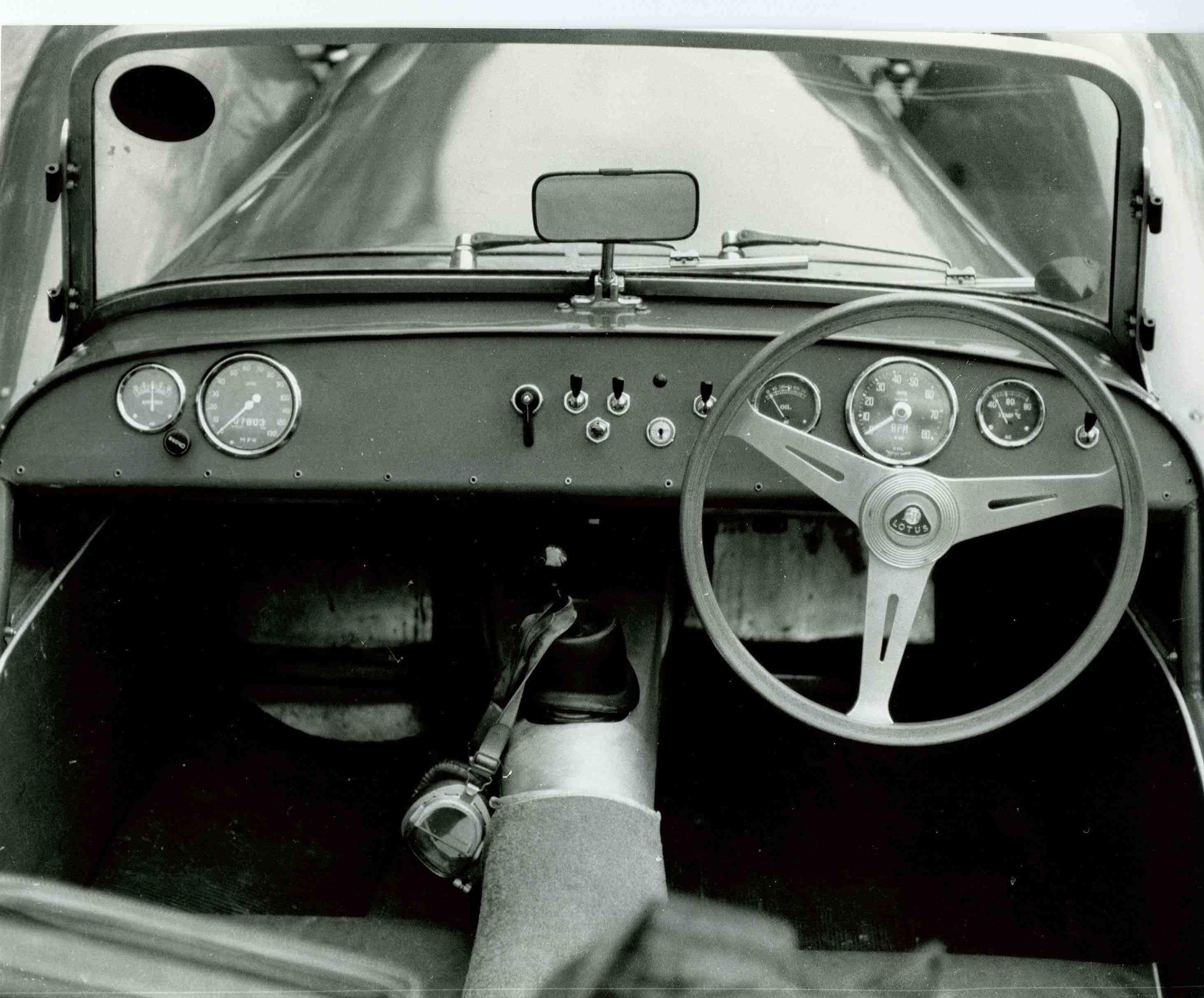 INTERIOR LUXURY:
Some cars had red carpeting fitted over the rear portion of the transmission tunnel from 1964 on.
A TV STAR:
29th September 1967 saw the first episode of a new and very individual television series called "The Prisoner" starring Patrick McGoohan. The opening sequence of the first episode showed a Lotus Seven Series Two in green livery with a yellow nose and the registration KAR120C being driven through London. The plot centres around a retired secret agent, played by McGoohan, who is put to sleep and abducted, only to wake up in a surreal place called "The Village" where a holiday camp atmosphere exists but nothing is as it seems, everyone is known by a number and there is no escape. Pretty Portmeirion, designed by William Clough-Ellis, with its scaled down buildings, is the setting for "The Village". Successive episodes consist of various escape attempts by McGoohan, known as 'Number Six' whilst his captors are trying to extract secrets from him. In all 26 episodes were planned but sadly the series came to a hurried end after just 17. From the Lotus Seven aspect episode 13 titled "Do Not Forsake Me Oh My Darling" has the most in it including a drive to Austria in search of a scientist whilst being followed by another secret agent in a Lotus Cortina.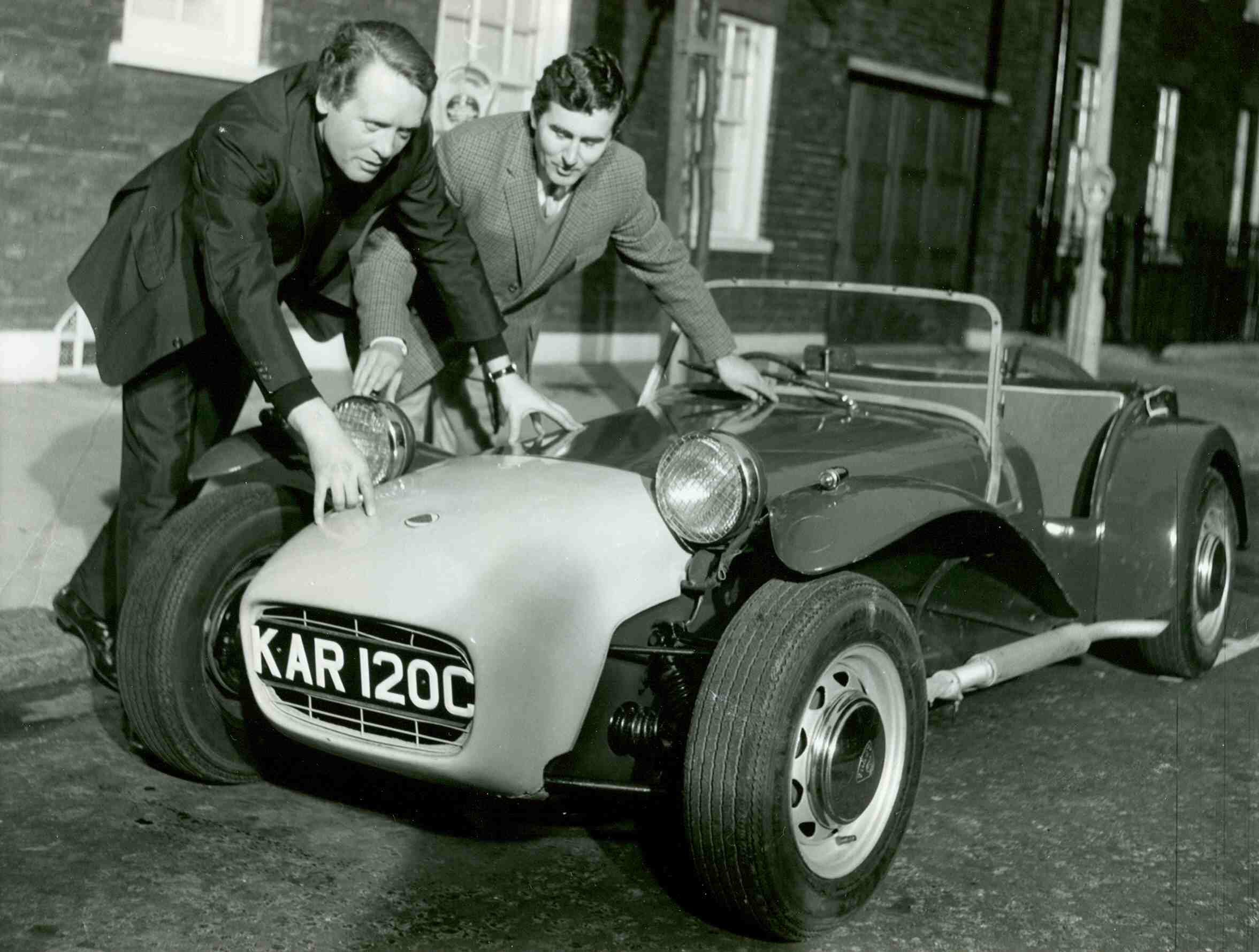 Patrick McGoohan & Graham Nearn.
THE CARS:
Like with most film work, props change and the Lotus Seven featured in The Prisoner TV series is no exception. The car originally used, was believed to be Lotuses factory demonstrator, a 1965 Lotus Super Seven 1500 Cosworth with the now famous Hertfordshire registration KAR120C. The other car that was definitely used was the 997cc Ford 105E powered Lotus Seven that is featured in the photograph included in this article. This is definitely not the factory demonstrator already mentioned as it sports drum front brakes of the inferior car. The two cars can be seen in certain "Forsake" driving sequences. One had a number plate upon which letters and numerals were affixed, but the other had them stuck directly onto the front grille. There are numerous claims for other car, none of which can be substantiated. The factory demonstrator went to Australia where it is believed to have been written off in an accident. Nothing is known of the other car.
EFFECT ON SALES:
The immediate effect of the TV series on Lotus Seven sales is uncertain, but there must have been some. However the overall effect over the years is much more pronounced as there are still many older owners of both Lotus and Caterham Sevens whose interest in the Seven was sparked by The Prisoner.
JWW 17-Apr-2005
Coming next, Chapter 14: The Series 2½, Special Series Two cars, Gullwing Hardtops and IRS.
Sources and further reading:
Lotus Seven by Jeremy Coulter (1986/1995)
The Prisoner Appreciation Society, Six of One http://www.netreach.net/-sixofone/
Photographs by courtesy of: Ferret Fotographics Tel: 01453-543243