MIKE COSTIN:
Several people and suppliers were responsible for Lotuses successes as sports car and race car constructors. Mike Costin was more important than most, having worked for Lotus in the very early days, at first building Mark VI's at the Hornsey factory. Then latterly as Managing Director he was in charge of Lotus Developments Limited, Group Lotuses wing for developing new road cars at Cheshunt in the early 1960s. He was born Michael Charles Costin on 10th July 1929, educated at the Salvatorian College, Harrow Weald, Middlesex and apprenticed at De Havilland, becoming a licensed Aircraft Engineer in 1950. In 1953 he started helping at Lotus in his spare time and continued there in a full time capacity for nearly a decade.
KEITH DUCKWORTH:
Although Keith Duckworth, had worked at Lotus for less than a year, he was another who played a big part in their successes as we shall see. He was born David Keith Duckworth in 1933, educated at Giggleswick School and Imperial College, London where he studied engineering. Seeing his son was interested in engineering and model making, Keith's father bought an old lathe, a pillar drill and a bench grinder and made the old air raid shelter at the back of their house into a workshop. It was here that Keith taught himself many basic engineering skills. On leaving university, in 1957, he joined Lotus, full time, as Transmission Development Engineer where his first job was to sort out the new notoriously unreliable 5-speed gearbox nicknamed the 'Queerbox'. This was used in the Type 12 single seater and sometimes in the Type 15 sports racing car.
COS + WORTH:
It is uncertain how Mike and Keith first met, but before joining Lotus, Keith persuaded his Mother that he should be allowed to use some of the inheritance money left to him by his Father to buy a Lotus Mk VI. He visited the Lotus factory behind the pub in Hornsey and decided to go for the FWA Coventry Climax engine option with MG TC gearbox, although the power unit alone cost £250! Sometime later, when ready, he collected the kit and during the coming months the various parts that were required to complete the car. It was during one of these visits that Mike and Keith first met.
THE COMPANY IS FORMED:
Keith's task trying to make the 'Queerbox' reliable proved to be an impossible one as there was very little room inside the casing and Chapman was not prepared to go to the expense of having a larger one cast. Whilst Keith and Colin weren't getting along, Mike could see great potential in Keith as an engineer and vice versa and whilst still at Lotus the idea of setting up in business together germinated. Both felt that they could make money enjoying themselves messing around with engines and Cosworth Engineering Ltd. was formed. Keith gave in his notice straight away but Mike had just signed a three year service agreement which prevented him from leaving or getting involved in business outside Lotus until it expired. Mike with a young family, living in rented accommodation had no choice but to honour his contract and stay at Lotus.
FORMULA JUNIOR:
Despite Mike not being released from Lotus, Keith decided to start without him. His first purchase was a Dynamometer, strangely a piece of equipment not being used by other tuning outfits. With a dyno he could at least see if they were getting anywhere. The first jobs were on Coventry Climax engines fitted to the early Type 14 Lotus Elites for Graham Warner of Chequered Flag Garages and Ian Walker and on some engines for John Brown's Elvas. By mid-1959 1000cc Formula Junior racing had got going and Keith saw great tuning potential in the over-square, high revving Ford 105E unit. During 1960 as much as 90bhp was being extracted from 997cc and it was one of these engines that John Derisley used in his Seven for the 1961 season.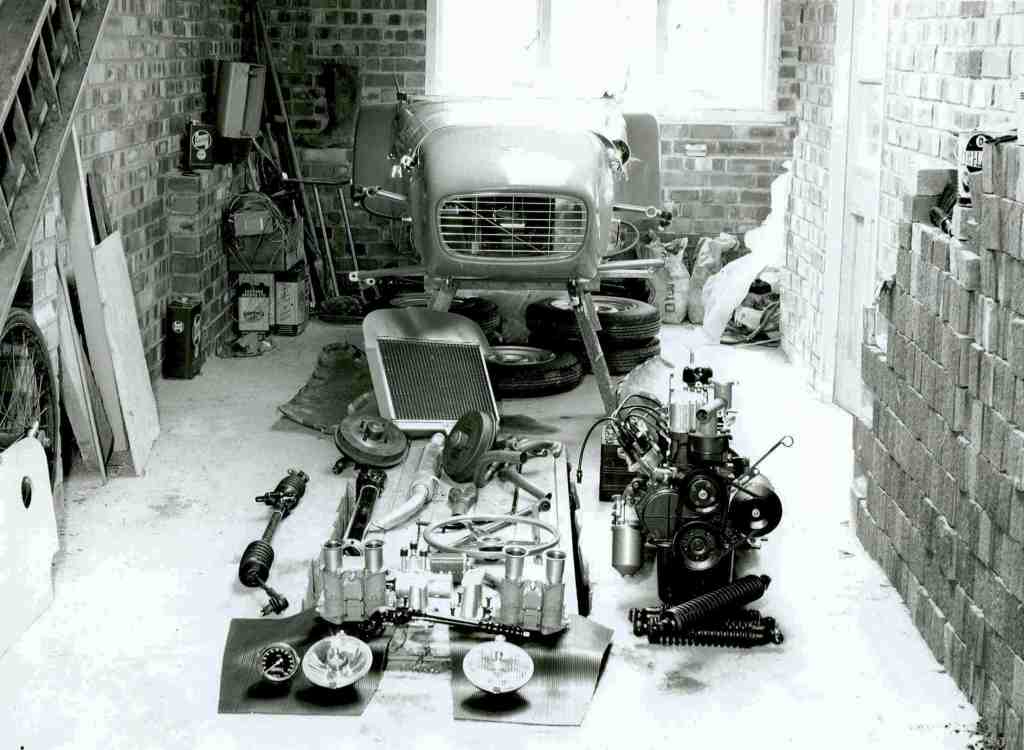 109E Series 2 Super Seven Cosworth as it comes in kit form.

THE FIRST LOTUS SUPER SEVEN COSWORTH:

In 1960 a road car with a one litre engine producing 90bhp was not really a practical proposition and so it was logical to increase the unit's capacity for the sake of reliability alone. The solution came in the form of Ford's three-bearing 109E Classic Capri engine 'lightly' tuned by Cosworth and designated the Mk V with a compression ratio of 9.5:1, a pair of 40DCOE2 Weber twin choke carburettors, an A2 camshaft and special manifolds, producing 85bhp. This engine was the basis of the first Lotus Super Seven Cosworth car which was made as a kit by Lotus Components between mid 1961 and September 1962. The specification was identical to the Series Two Seven, including Triumph Herald drum brakes to the front wheels. However, 'extra' equipment now standard to the car included flared wings, a woodrim steering wheel in lieu of the grey plastic Standard 10 job from Wilmot Breedon, an electric impulse tachometer, full weather gear, propshaft tunnel carpeting and rubber footwell matting and a 4.1:1 final drive ratio.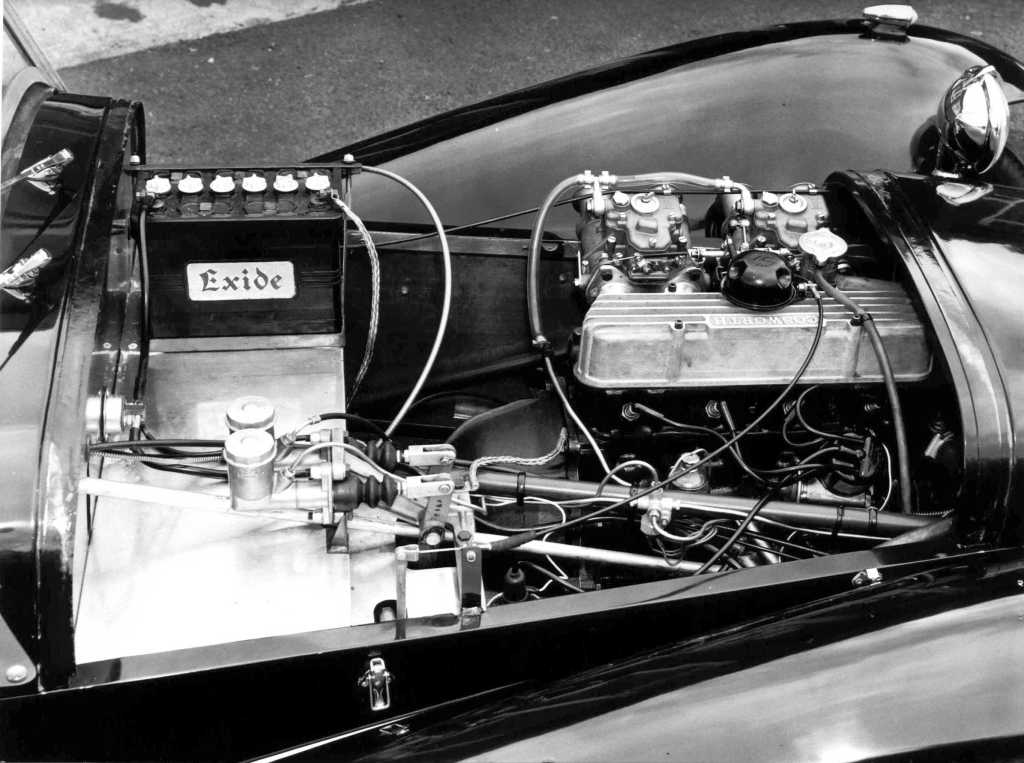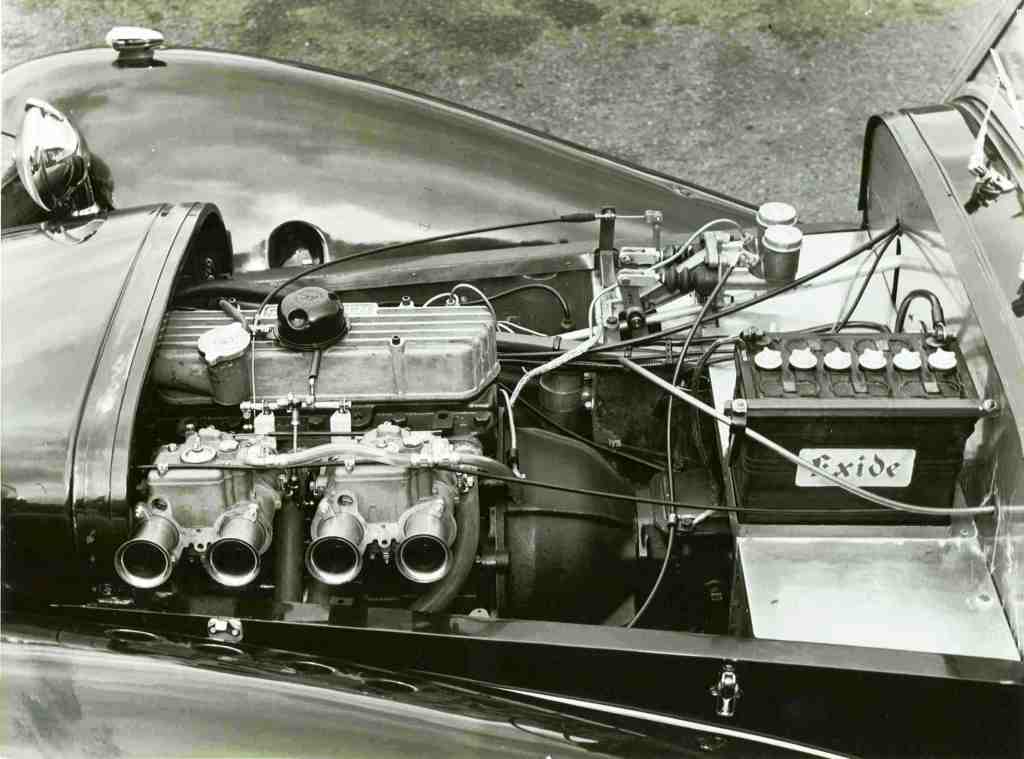 109E Engine bay detail (Note no chassis plate!).
THE LOTUS S.C.C.A. SEVEN:
Specifically for the Sports Car Club of America's race series, a model named the "Lotus S.C.C.A. Seven" was produced. The same Ford three-bearing crankshaft engine was used but with a 10.5:1 compression ratio giving more torque. In addition standard equipment on this model also included close-ratio gears, 5" x 13" magnesium wheels, 7" headlamps, rollover bar, seatbelt mountings and a radiator swirlpot.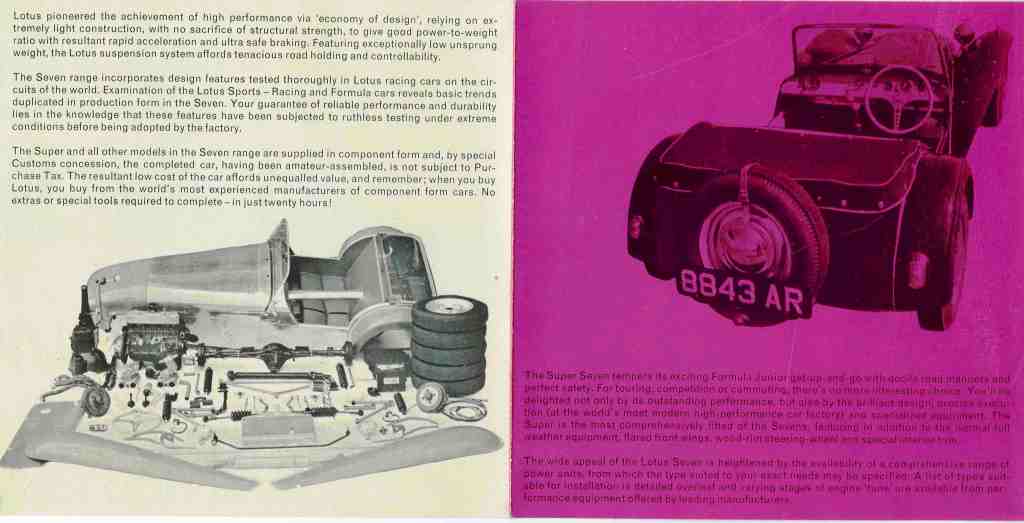 Second Lotus Seven Series 2 Brochure circa December 1962.

ROADTESTS:

First to road test a Super Seven Cosworth was John Bolster for Autosport in September 1961. He was very impressed with the car calling it "hairy" and describing it's performance as "shattering". With power of 85bhp and weight of 960lbs he recorded a maximum speed of 100mph and a 0 to 60mph time of 7.6 seconds very quick for it's day.

POSTSCRIPT:

Keith and Mike's company went on to design and build the DFV family of race engines under contract for Ford. In June 1967 in a Lotus 49 it won first time out at the Dutch Grand Prix with Jim Clark driving. In all well over 1,000 were made in over 20 years of production; it was the most successful Formula One engine to date.

Sources and further reading: "Cosworth, the Search for power" by Graham Robson (Patrick Stevens 1990)

JWW