THE LOTUS BUG:
As a student of the College of Estate Management in London, Jon Derisley had passed the Lotus works at Hornsey on his way home in the mid-1950's. On occasions he had seen Mark VI chassis frames being assembled on the pavement outside, which fascinated him. It wasn't long before he came to know some of the people involved and inevitably, in 1956, he bought a second hand Ford E93A side-valve powered Mark VI himself. This car, SNK6, he raced for a season and a half (1956/57) with some success. Early in 1956 he was one of the founder members of Club Lotus, writing articles including a column titled "Paddock Gossip" in the Roneo produced news sheets which were the forerunner of the legendary Sports Car and Lotus Owner magazine which commenced later in that year. SNK6 is now with another owner, garaged near Bath, and comes out for the Vintage Sports Car Club's hillclimb at Prescott each year.
JON'S FIRST SEVEN:
Early in 1958 Jon bought #427, a new Lotus Seven Ford side-valve car as a kit. This he assembled with the help of Dennis Loveridge, used on the road as 10FPK and raced for three years (1958/59/60) with great success. Race venues included Brands Hatch, Silverstone and Goodwood circuits in England and Dunboyne in Ireland, Prescott, Shelsey Walsh, Great Auclum, Brunton, Harleyford and Bodian hills as well as sprints at North Weald and Gosport, some 42 competitive meetings in all.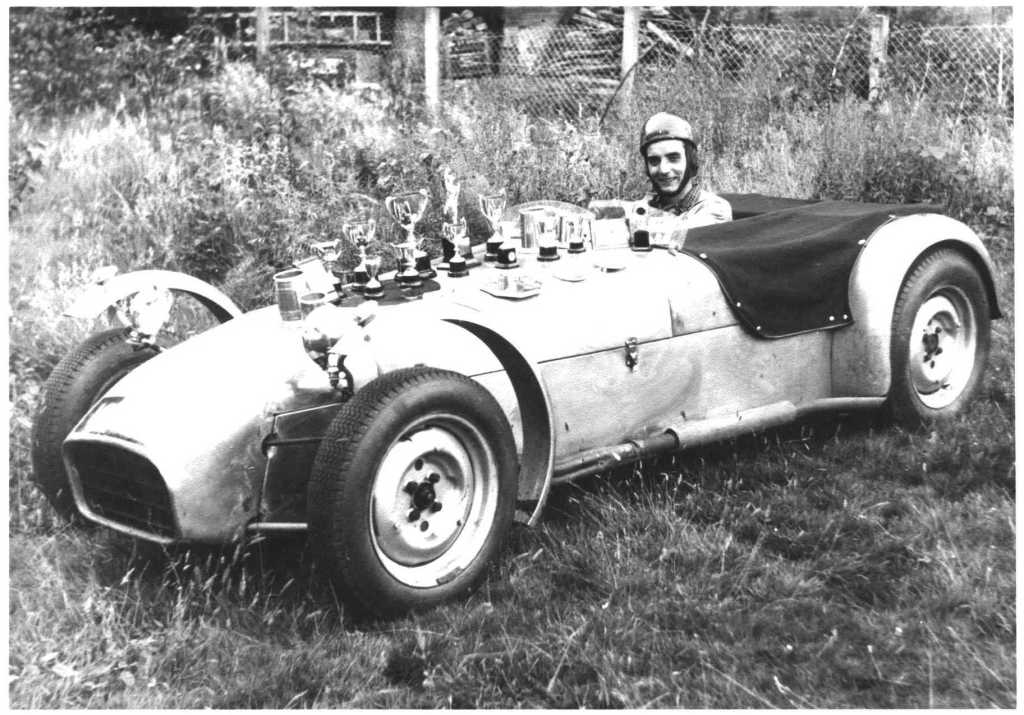 Jon Derisley with his Lotus Seven Series One and Trophies.

AN OFFER HE COULDN'T REFUSE:

Late in the Summer of 1960 Jon was approached by Colin Chapman to pilot one of the then new Series Two cars as a factory works drive for the 1961 race season. Jon gladly accepted and hastily sold his Series One to John Boughton who lived near him in Camberley. The car now resides in Chelmsford, Essex.

NO ORDINARY SEVEN:

According to Lotus records SB1072, the kit that was delivered to Jon in August 1960 was no ordinary Seven. The reason that it came to Jon as a kit was to avoid Purchase Tax, the V.A.T. of the day, because if the factory had assembled it, tax would have had to be paid. Special features included a special 'lightweight' chassis made up of thinner walled tubing, a Cosworth Mark III Ford 105E 997cc. engine developing some 85bhp, a BMC Austin A35 alloy cased 4-speed close ratio gearbox which was lighter than the Ford item, adjustable shock absorbers, special springs, a bucket seat, a special cooling system and Dunlop R5 racing tyres.

THE 1961 SEASON:

Jon competed at sixteen race meetings in 1961 and accumulated ten 1st places, five 2nd places, three 3rd places, one 4th place, and one 6th place from twenty one races with nine fastest laps. Venues included Goodwood, Brands Hatch, Mallory, Silverstone, Phoenix Park, Great Auclum and the Brighton front for the Speed Trials.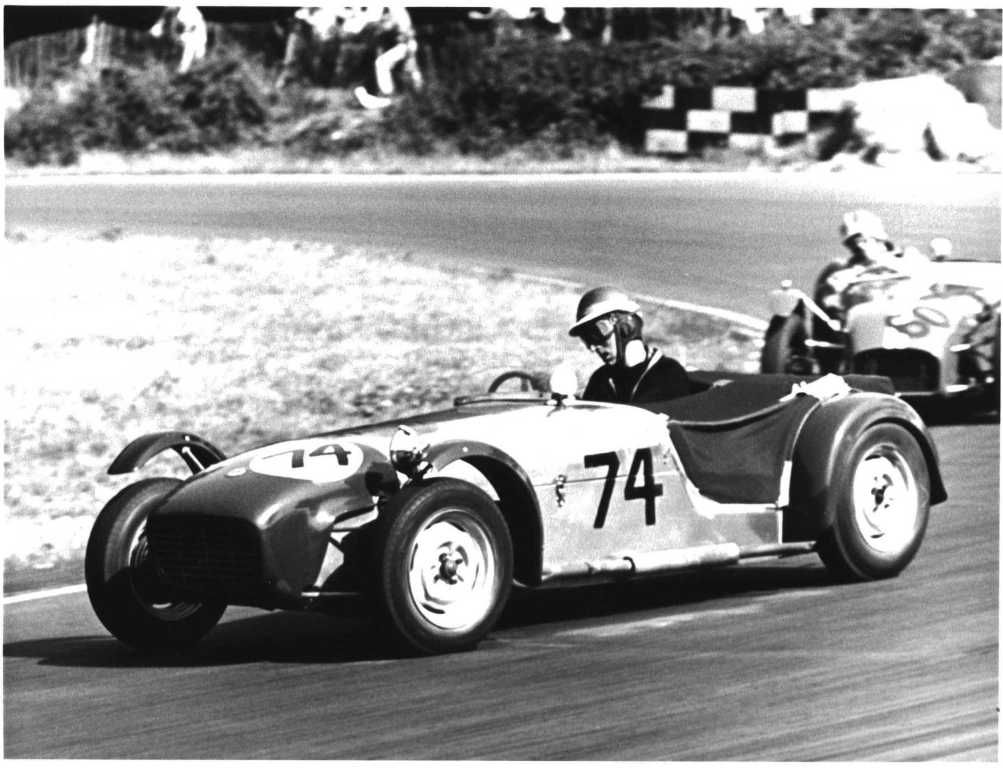 Around Druids at Brands Hatch Circuit.

CONFUSION OVER IDENTITY:

There is a yarn to be told regarding the Brighton Speed Trials. At this meeting the classes were divided into two main groups: 'roadcars' and 'racecars', the roadcars had to be road legal with road registration numbers and current road tax, the race cars didn't. The roadcars returned to the startline via public roads, the return journey for the racecars was cordoned off to public traffic. Whilst if Jon had made the effort, he could, no doubt, have registered, taxed and insured the car for the road, it was easier for him just to contact John Boughton, the owner of his old Series One and borrow his tax disk and making up plates sporting his old number, 10FPK! This has led to some confusion as the number was not removed after the meeting and continued to be displayed on both cars!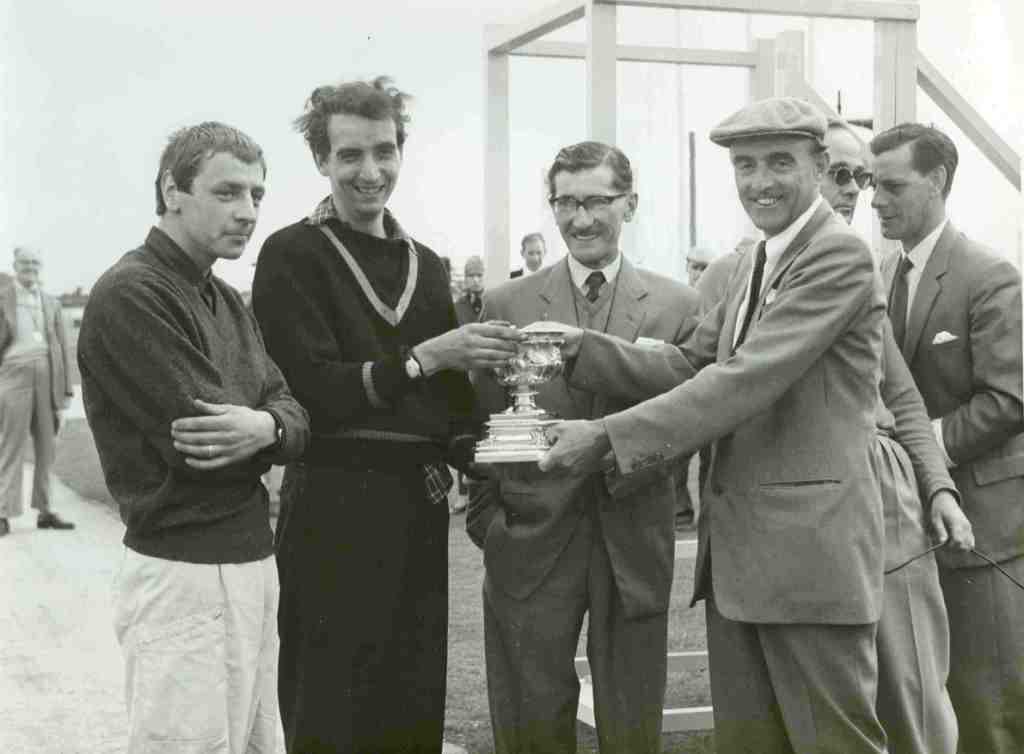 A presentation at Goodwood.

A JOB WELL DONE:

At the end of the season, as promised, he delivered the car back to the Lotus factory in Delamare Road, Cheshunt, Hertfordshire. On arrival Colin Chapman got one of his mechanics to remove the steering wheel which was presented to Jon as a momento. In the 17th November 1961 issue of Autosport, Lotus Components placed a small advertisement asking for offers in the region of £625 for Jon Derisley's Brooklands Memorial winning car. Ofcourse the car had never belonged to Jon! Sometime later in 1962 Jon received an invoice from Lotus demanding £76-19s-10d, for what he knew not. Despite several follow-up letters from the factory Jon never paid the bill!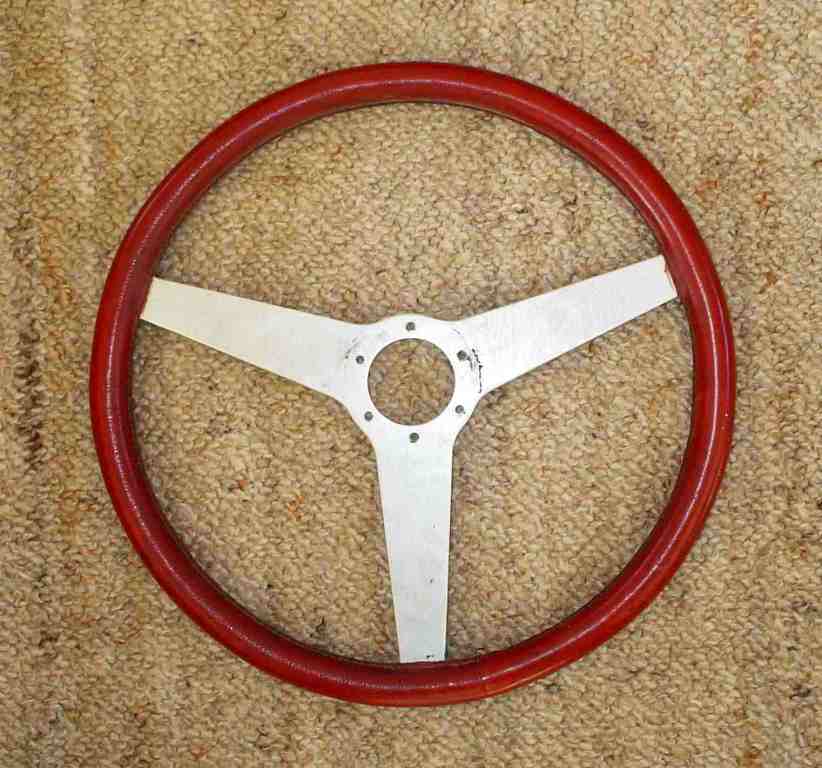 The Steering Wheel.

Jon went on to campaign WUU2 (1962), the ex Blumsden Type 14 Lotus Elite (1963), a Lotus Cortina (1964) and a Lotus 22 Formula Junior (from 1965) which is still owned by his daughter Judith. He died in 2002 having been an active British Racing Drivers Club member for many years.

NEW OWNER:

SB1072 was bought by John York, proprietor of a firm of piano makers in Suffolk early in 1962. John had been very keen on racing from a very young age and had previously owned and raced a Le Mans Eleven. It is not certain how many races John competed in during his ownership of the car before the terrible accident on Easter Monday 1963 at Snetterton that finished his racing career, but there were certainly some. Conditions for the sports car race he was in were extremely wet, infact only eight cars finished the race with many cars spinning off. John's car spun coming out of Sears Corner and inverted whilst in the air landing on top of him. John's face was a real mess involving surgery and hospitalisation. SB1072 was sold for scrap value, no record of its current whereabouts is recorded. John died in 2002.

Photographs by courtesy of: Ferret Fotographics.

Artefacts lent for digital reproduction by Jon's daughter Judith.

Sources and further reading: Autosport and Sports Car and Lotus Owner.

Much of this article was narrated first hand by Jon before his death in 2002.

JWW