THE FAMOUS WORKS DRIVE (Boxing Day at Brands Hatch 1958):
26th. of December 1958 saw the Coventry Climax powered Lotus Super Seven factory demonstrator compete at Brands Hatch in the capable hands of Graham Hill. The same meeting also saw the first outing by Jim Clark at this twisty Kent circuit, driving a Lotus Elite for the Border Reivers team. Clark was to prove a quick learner coming second to Colin Chapman, the man soon to become his employer.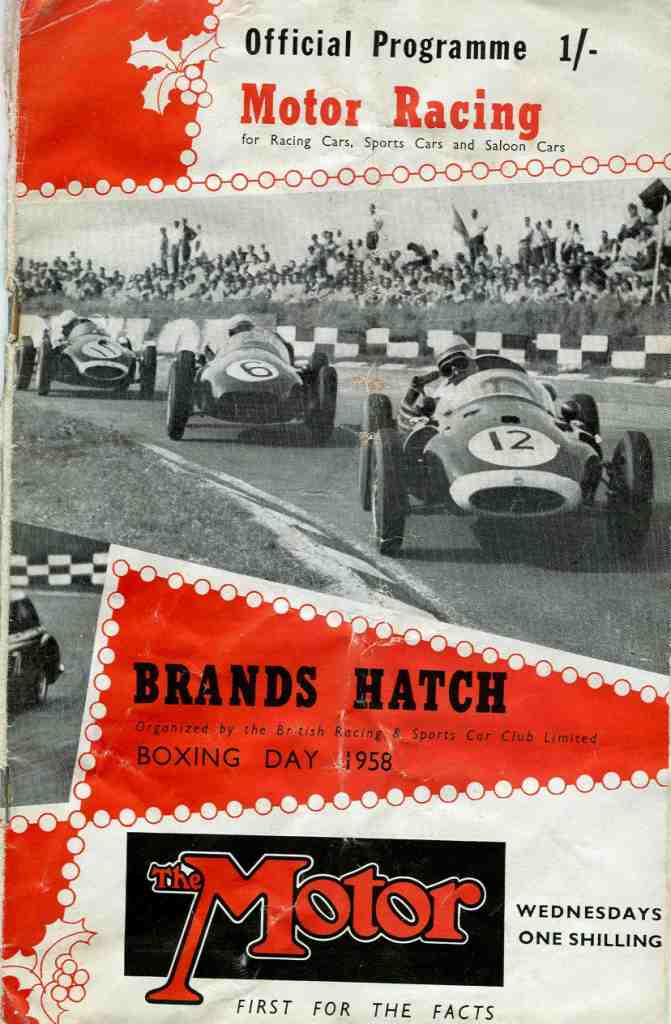 Boxing Day 1958 at Brands Hatch - Official Programme.

EXTRACT FROM THE OFFICIAL RACE PROGRAMME:

EVENT FOUR - "CHRISTMAS TROPHY"

For Sports Cars with an engine capacity not exceeding 1100cc. unsupercharged. - 15 laps.

START: 2.00pm.
| | | | |
| --- | --- | --- | --- |
| No: | Entrant & Driver | Car | c.c. |
| 17 | Team Lotus (Dvr. G. Hill). | Lotus VII | 1098cc. |
| 18 | Team Lotus (Dvr. P. Ashdown). | Lotus XI | 1098cc. |
| 19 | Dorchester Service Station (Dvr. D. Piper). | Lotus XI | 1098cc. |
| 20 | N. R. Hicks. | Lotus XI | 1098cc. |
| 21 | R. N. Prior. | Lotus XI | 1098cc. |
| 22 | G. M. Jones. | Lotus XI | 1098cc. |
| 23 | I. Gibbs. | Lotus XI | 1098cc. |
| 88 | L. I. Bramley. | Lotus XI | 1098cc. |
| 24 | Elva Racing Team (Dvr. L. Leston). | Elva IV | 1098cc. |
| 25 | Elva Racing Team (Dvr. J. Brown). | Elva IV | 1098cc. |
| 26 | Elva Racing Team (Dvr. J. D. Peters) | Elva IV | 1098cc. |
| 27 | P. Gammon. | Lola | 1098cc. |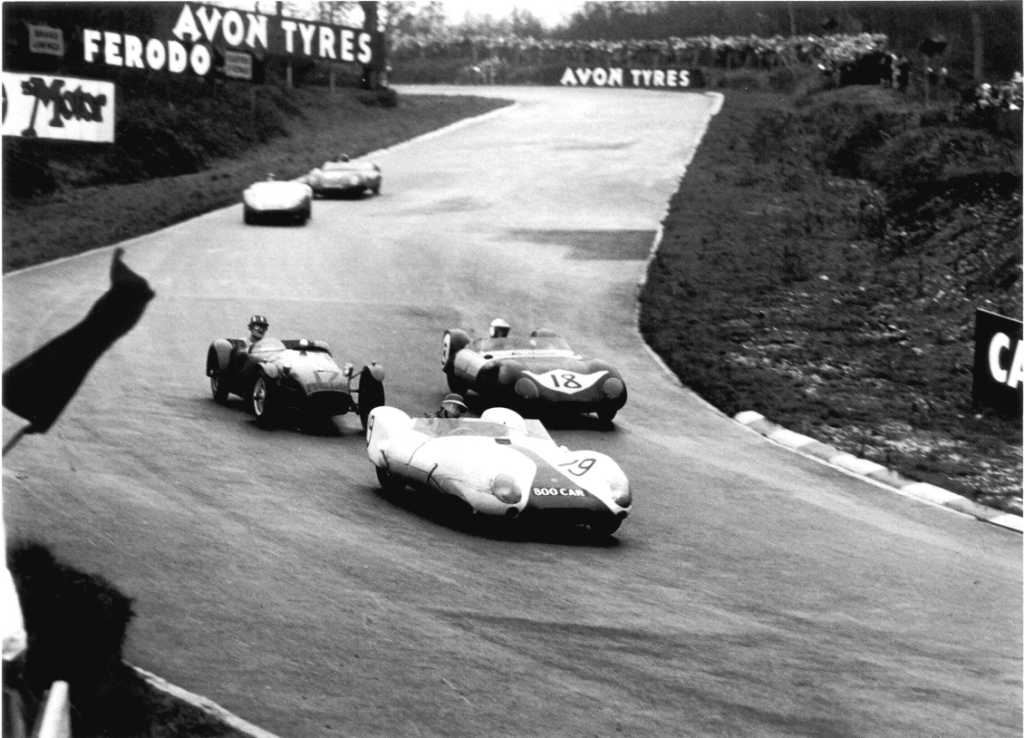 Ashdown, Piper & Hill entering Bottom Bend Brands Hatch.
EXTRACT FROM AN ARTICLE IN JANUARY 2nd 1959 AUTOSPORT:
"Next race bought out the 1100's again, this time with Lola (in the hands of Peter Gammon) among the field. Frank Nichols had supplied three Elva IV's with the new "knife-edge" line driven by Les Leston, J. Brown and American J. D. Peters, and Colin Chapman had bought out a couple of his cars. One of these was an interesting specimen, being a Seven with a Climax engine and in the hands of Graham Hill it occupied pole position!
It was David Piper (Lotus) who took the lead right from the word go, however, with Peter Ashdown in the other works Lotus right on his heels. This lead was largely due to one of the quickest we've seen in years, Piper being on his way to Druids before the flag fell! Unfortunately someone saw him and he was penalised 10secs.
Ashdown sat right on his tail, just waiting for the first mistake, but behind him Hill, who had not made a particularly noteworthy start, was ploughing his way quickly and relentlessly through the field. He had a short tussle with Leston's Elva, but this ended when, with Hill in front, Leston turned round on Bottom Bend while the crowd were treated to a magnificent "phenomenal avoidance" by R. N. Prior who could not have done better if he'd grown wings and flown over the top.
Piper was still out in front, going around in 1min 8.4secs with Ashdown still right behind him. But behind them the hunt was really on and on the ninth lap of the 15 lap race the first five cars were covered by 1.5 seconds! Then on lap 11, Piper disappeared from the lap chart, Ashdown was late and clearly something had happened behind the trees. Graham Hill swept into the lead with Gammon in Lola behind him and Prior third. Ashdown reappeared further down the field, Piper came back into the fray after losing a lap and that was how they stayed until the end, Hill leading Gammon home by some 7 secs after the latter had barely succeeded in holding off a tremendous challange from Prior. Race average speed was 64.8mph and the fastest lap went to Piper in 1min 8secs (66.83mph)."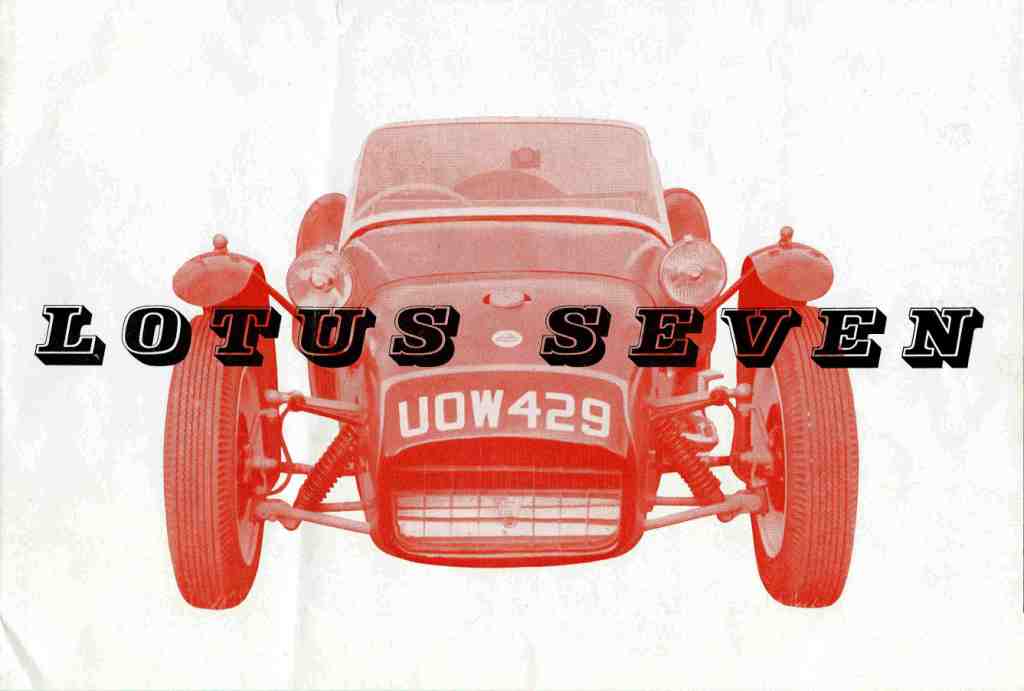 Front of Second Lotus Seven Brochure.

THE CAR GRAHAM HILL RACED:

#436, 7TMT, was the prototype of the first Lotus to be called "Super Seven" which was later dubbed the Lotus Seven "C" (for Climax). What was incredible about Hill's victory was the low specification of the car compared with others on the grid. Like the production cars to follow, it had no de Dion rear suspension but, instead, the usual BMC type Nash Metropolitan 'live' axle, drum brakes to all road wheels and the usual aerodynamics of a brick. All the other cars in the race which were successful sports racing cars of that time were fitted with de Dion rear suspension, disc brakes and slippery bodies. Further, the 1098cc single overhead cam Coventry Climax FWA engine, which had been used as a test unit for the Type 14 Elites, was only in Stage I tune whereas most of the opposition had more power. In fact, the win says a lot about Hill's skill as a driver.

In view of it's outstanding performance, the car was adopted by the factory as a demonstrator and in the course of the next six months was used by them for showroom displays, demonstrations and all manner of publicity work. It was also road tested by all the better known English motoring journals including Autosport and was acclaimed by one and all to be a fantastic road car, being able to put up averages between places comparable with anything around at that time.

It was also featured in an article in Sports Car And Lotus Owner in January 1959 as well as in Ian Smith'' book, "The Story of Lotus" on page 126.

In July 1959 the car was bought by Peter Warr who was Lotuses Sales Manager at the time and was later to become their Formula One Team Manager. Peter used it as every day transport and as a race car for some 18 months and covered more than 10,000 miles in it including a 2,000 mile tour of Europe. During his ownership, Peter had the engine uprated by the young Cosworth Engineering company and also had disc brakes fitted.

Early in 1961 it was bought by Derek Jolly, the Australian importer of Lotus cars for £750. In Australia it was displayed at a number of motor shows before eventually being sold to the Coad brothers, Frank and George, who raced it during the 1961 and 1962 seasons in Victoria. Late in 1962, it won it's class at the Western Australia Caversham Six Hour race after leading on several occasions. It was sold to Derry George and then to Don Lawrence in 1965 and later to John Gray who eventually sold it to Isobel Doube. Under Isobel's ownership it was raced at the Sandown Historics by Rex Colliver in 1973, 1974 and 1975. Since then it has been totally restored retaining most of the original parts and the custodian today is Isobel's son Christopher.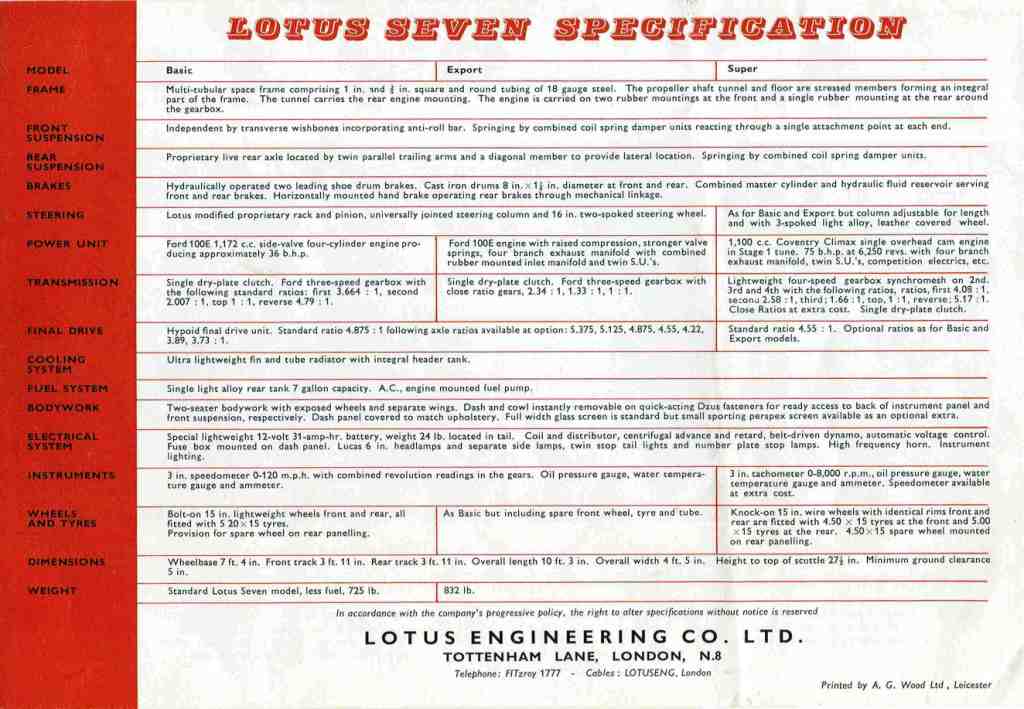 Back of Second Lotus Seven Brochure with Basic, Export and Super models.

In all about 20 Climax powered "Super Sevens" were made in the two years, beginning of July 1958 to end of June 1960.

Photographs by courtesy of:-

Ferret Fotographics TEL: 01453-543243

Sources and further reading:

Lotus Seven by Jeremy Coulter (198?)

Lotus – All the Cars by Anthony Pritchard (1990)

The Lotus Book by William Taylor (1998)

JWW