On Tuesday 15th. of December 1970 Charrington and Company in conjunction with Lotus Cars Ltd. re-opened the former Chalk Farm Tavern, 89, Regents Park Road to produce an exciting new pub theme based on Lotus car, aptly named PUB LOTUS. This project was an addition to Bass Charrington's many speciality houses and both companies were determined that Pub Lotus should become the centre for racing clubs and enthusiasts in London.
The House which was situated near Primrose Hill, a short distance from London's West End incorporated the Pit Stop Bar, the Lotus Seven Snack Bar and the Europa Lounge which was fitted with seating from the Lotus Europa Sports Car. In addition the Grandstand patio had a display of Lotus cars.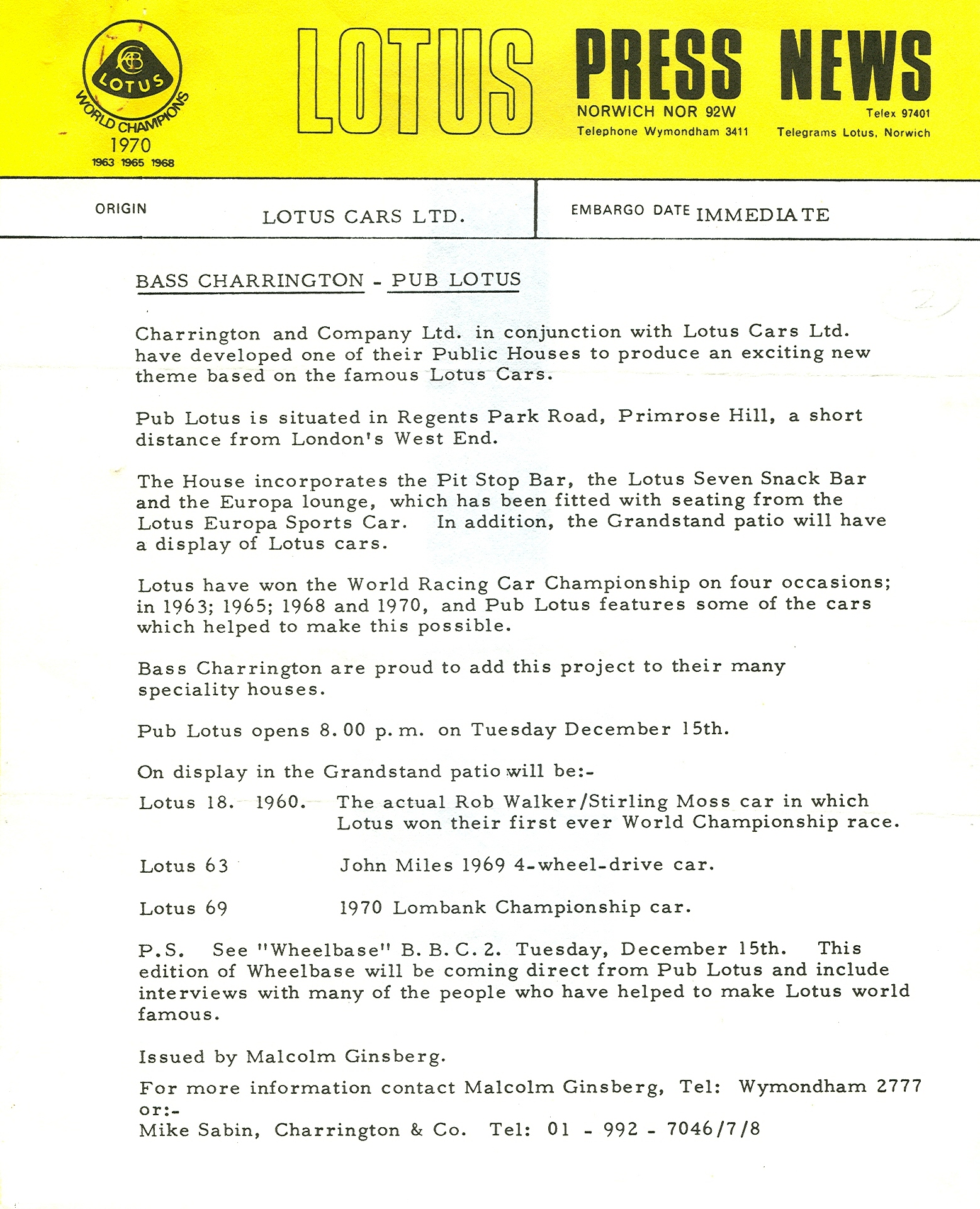 At the opening, the first pint was pulled by Group Lotus Chairman, Colin Chapman. Lotus, who at that time had won the World Racing Car Championship on four occasions in 1963, 1965, 1968 and 1970 had on display on the Grandstand patio the 1960 Lotus 18 Rob Walker/Stirling Moss car which won Lotus their first ever World Championship race, a Lotus 63, the John Miles 1969 4-wheel drive car and a Lotus 69 1970 Lombank Championship car.
Among the personalities present at the opening were Colin Chapman, Stirling Moss, Lord Montagu of Beaulieu, Bobby Moore, Tony Rudd and Formula 3 Champion, Tony Trimmer.
The opening was shown on the BBC2 "Wheelbase" programme live from Pub Lotus where there were interviews with many of the people who helped Lotus become world famous.
JWW
[back]