Operation Jeunesse ("Youth") was a single make championship utilising twenty Lotus Seven Series II's and was run in France for two seasons from 1964 to 1965. Although single make championships are common place nowadays, 30 years ago they were fairly avant-garde.

Sport-Auto, the then two year old French monthly motorsport magazine, edited by Jabby Crombac, along with Ford, BP, Kleber and Europe No. 1, put a package together which was to give a new life to French motorsport. Ford purchased twenty Lotus Sevens in kit form and donated them to regional clubs and racing teams all across France. Each team would then be responsible for assembling, preparing and maintaining their car and entering it into the championship under the banner of their particular province.

The plan was published in the March 1964 issue of Sport-Auto and the response was phenomenal. More than ten thousand would-be racing drivers wrote in and their responses were distributed to the nineteen lucky teams selected to run a Seven for their province. The twentieth kit was kept unassembled in order to provide spares.

Each team then began the arduous task of choosing its drivers from the many letters received. Whilst this was going on Sport-Auto organised a competition to find 19 young artists who would create a distinctive colour scheme for each car.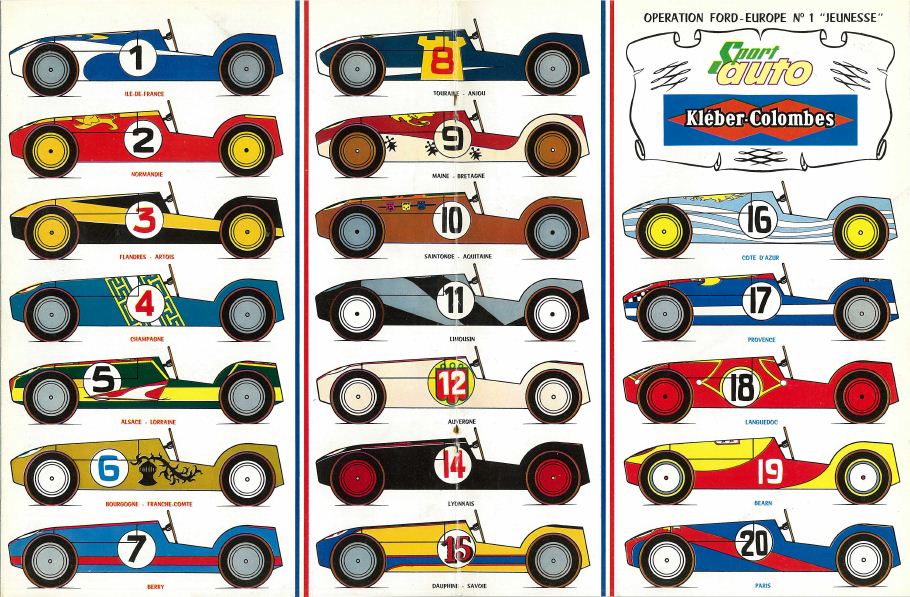 The liveries from Sport Auto.
The 'operation' was not designed purely as an introduction to the starring role in motor racing, 'the driver', but also to promote the less glamorous, yet equally important, supporting roles and as such many yound would-be race mechanics were recruited to prepare and maintain the cars.

Ford provided 'Corsair GT' engines minus the manifolds, thus giving the mechanics some design and fabrication work to do. Time was of the essence as the opening race was to be run in May 1964, just a few weeks after the plan was first announced. Teams frantically tried to assemble their Sevens often in the evenings at their local Ford workshops. In some provinces the cars were given to the local technical college for assembly. Come the first race at Montlhery, eight of the ninteen made it to the starting grid. As an aside the front and rear mudguards were banned in order to make the cars look more like true 'open wheeled' race cars.

The first race was won by a 21 year old student names Henri Pescarolo, racing for Paris. Pescarolo also won the second race at Magny-Cours, but after four races it was the car from Lyon that led the championship. The Seven entered by Dauphine-Savoire was driven by Johnny Servoz-Gavin who later went on to drive in Formula One for Matra and Tyrrell. The operation helped launch the racing career of another great name in Formula One, Patrick Depailler. He drove under the banner of his native Auvergne.

At the end of the 1964 season, after a hard fought competition, the Lotus of Lyon was declared the winner. It had been driven mainly by J. Mieusset who went on to become a famous name in hill-climbing. The provinces of Normandy and Paris came second and third respectively and Paris won the hill-climb trophy.

The series was run again in 1965 with a few minor changes and continued to provide good close racing and a lot of fun. The car from Lyon took the championship for a second year with J Mieusset (again), S. Costa and F. Lacarrau sharing the drive. The car from Cognac finished second and the hill-climb trophy went to Bourgogne.

Around 50 young drivers made their debut during Operation Jeunesse and about 150 youngsters learnt how to assemble and prepare cars, all with great enthusiasm, not forgetting the 19 yound artists who could add car-painting to their portfolios. The whole series ran without any serious accidents. The only problem was that teams experienced difficulty obtaining spares within a reasonable time. The Lotus Seven was used for what it was intended and it proved to be the right car for the job.

After 1965 the cars dissappeared from the racing scene, some were used in racing schools but most simply vanished. In recent years, car hunters have managed to unearth most of them. The Lyon car, twice winner of the series proudly sits in the Henri Malartre Museum near Lyon.

From an article by Eric Perrin

[back]